Comfortable common room with an open fireplace and a pavillon
In the evening, or on rainy days, our guests gather in our common room which has an open fireplaces. Guests are welcome to perform or to enjoy the cosy atmosphere with, for example, a deck of cards.
The youth can meetup in our pavillon in the evening, which also has an open fireplace. The same cosy atmosphere as in the big common room.
Free WiFi
We were the first camp site in Denmark to offer WiFi! We have free WiFi available for our guests with good coverage at the majority of the camp site, so that you may check your email while you enjoy the beautiful nature. WiFi is included in the accommodation price.
Bathing beach and rafts in the lake
9 km long lake for swimming and boating: Tjele Langsø – one of the longest lakes in Denmark
Big raft by the beach. Functions as a wooden pier, and sometimes we take a trip in the lake with it.
Small raft that you can swim out to and sun yourself.
Canoe rentals
Feel free to bring your own kayak, boat (without motor) and surfboard etc. There is an area down by the lake where you may put it.
Possibility to fish from the shore or from a large raft (the old raft, which now functions as a seperate fishing place next to the lakeshore.)
Sauna located in an undisturbed area next to the lake shore with a dedicated wooden pier.
Games and playing
Beach volleyball
Volleyball
Ping-pong
Sports ground for football, rounders, Kapow etc.
Petanque field
Lending of games for use in the common room with the open fireplace. Feel free to bring your own games
Multiple play grounds and some single playground equipment units distributed around the camp site.
Balls, petanque-balls and bats are available in the information.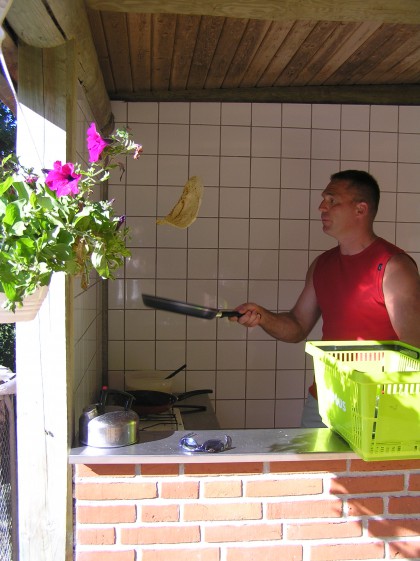 Information and kiosk
A number of different tourist brochures and maps over the area
Hiking and bicycle trips in the area with maps and descriptons
Every morning home-baked organic bread rolls
Ice cream, sweets, cold cuts and other items are available from the office
A supermarket is located approximately 1,5 km from the camp site.
Sanitary
Free hot showers (included in the in the accommodation prices)
Changing table and baby tub in the gentlemen and ladies section
Washing machine with automatic dispensing of soap without perfume and bleach
Dryer
Hand wash with hot water for laundering
Drying cabinet for wet clothes
Shoe dryer
Fish cleaning area
Slop sink
Facilities for caravans
Drinking water taps distributed around the camp site
Camping kitchen with cooking plates
Other
Grill for lending
Lending of several music instruments for usage in the common room with the open fireplace. Feel free to bring your own instrument!
Rental of small cabin
Access to electricity on all pitches
Charging station for your electrical vehicle. Read more
Pictograms