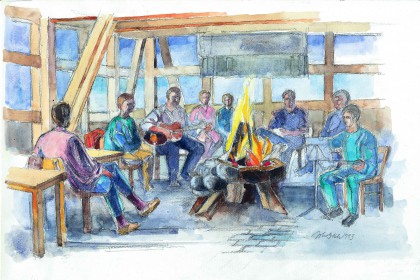 An outstanding camping experience
We are combining unspoiled nature, life by the water and activites for all ages with the cosy atmosphere around the open fireplace, with singing and music played by the campers. We have been focusing on this since 1978 when we founded Vammen Camping in the middle of a preserved nature area next to lake Tjele Langsø.
The open fire room and live music
As the center of life on the camp side we started by building a big rustic half-timbered room with an open fire. Right from the start we decided that TV and slot machines should never be here – the focus should be on other values. We wanted to create a meeting place for campers around the crackling open fire with live music played by the campers themselves. Every evening we light up the open fireplace where people chit-chat, read books and play games – often to the sound of live music that some of the campers play.
If you play an instrument, no matter if you are a novice or experienced, you are welcome to perform. People play and sing everything from blues to folk and pop with acoustic instruments.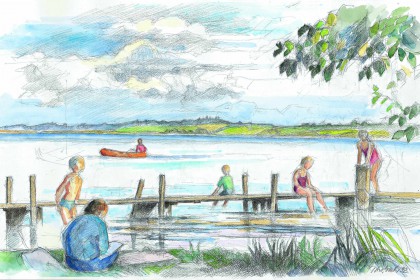 Good view and the lake
With a 35 m pitch from the highest located pitch and down to the beach, the south facing pitches have a great view over the lake and the camp site with its varyied landscaping. Some pitches are small quiet cosy corners with good shadow others are a part of a larger field where, for example, children play games with each other between the pitches.
We have a view over the 9 km long lake and with pitches next to the shoreline we have included the lake in the life and activities on the camp site. The lake functions, among other, as a swimming place, for boating (canoes, windsurfing etc.), beach concerts and raft tours.
In a far corner, right next to the water, we also have a sauna with its own woodien pier, so that you can jump into the lake undisturbed.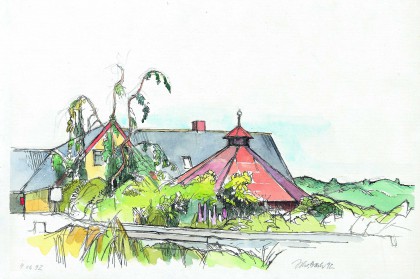 Activities
On the bulletin board right next to the common room with the open fireplace you will find an overview of activites and events on the camp site for the next three days. We focus on having activies for all ages; for the children, the youth and the adults – for the whole family. Activies range from everything from sporty games to creative subjects (music and needlework) and cooking (e.g. make your own pizza). Se more on the page activities.
Come and join us
Come and be a part of the life on our camp site where rainy days are cosy days around the warn fire in the common room, and the morning sun is shining at 8:30 am when the hunting horn announces the freshly home baked organic bread rolls.
We looking forward to welcoming you and having you experience Vammen Camping!
Anine and Harm-Wulf Sluyterman